We chose to visit Mendoza, Argentina because we heard it was the home of Malbec wine region. For the past few months, Arlen has been tasting different kinds of Malbecs to refine his pallet and prepare for this moment. Back home he found the Malbec as a strong "spicy" wine and was excited to taste the wine straight from the source in Mendoza.
 Day 1: For our first day wine tasting in Mendoza we decided to do a self-guided bike tour of Maipu, wine region. We had two options for our tour: 1) Lonely Planet recommended we bus to Mendoza and rent bikes there, or 2) the local wine tour company recommended rent bikes in Mendoza and take the train to Maipu. Trusting the locals we went with the latter – leaving out one crucial part, we didn't rent bikes before we got to Maipu because the store was closed. No biggie right? After getting off the train a stop early, we were in Maipu with our helpful map in hand and set off to find the bike rental shop which appeared to be only a few blocks away. However, after about an hour of walking in the 100 degree heat, we still see no signs of a bike store. We start asking a few groups of locals in Espanol where to find the bike store, only to find out we are about  2K (1.5 miles) or "cuarento minutos mas" (40 min more) away. Turns out the map was not to scale. We start venturing down the dirt road and try to settle into our fate.  At this point we are half joking and half wondering what we are doing. Lucky for me,  Arlen saved the day and waved down a bus getting us a ride to the door of the bike shop. After a short bike ride we visited two beautiful wineries, enjoyed a nice lunch, wine tasting, and even some good tunes (Citizen Cope soundtrack on repeat). On the bus back we met a nice couple, Paul and Leanne (sp?) from the UK, and later that night got to celebrate their recent engagement with dinner and drinks. Congrats to them!
Here are the pictures from the bike ride!
Day 2: Since we came here for the wine, we decided we couldn't leave Mendoza without a first class wine experience and therefore signed up for Trout and Wine's tour of the Uco Valley Wine Region in Mendoza.  We were picked up from our hostel in the morning and met our tour guide, Pamela, a local of Mendoza who spoke great English.  Throughout the day she shared interesting bits of the Mendoza culture and taught us all about the wines in the region.
The wine stops:
- 1) First stop was a family owned winery, Pulenta Estate, where we learned how to tune our sense of smell with a blind smell test using fresh fruits and other spices commonly found in wine. We toured the winery and learned how the process of fermenting, aging, and bottling wine.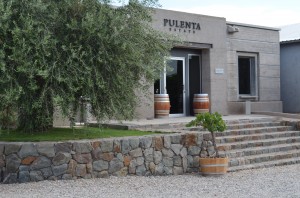 9:30 am and we are greeted with a glass of Sauvignon Blanc. It's 5 o'clock somewhere!
- Second stop was a small boutique winery, La Azul, out in the middle of a large farm. We were greeted by Jimmy, the cook, the wine maker, and everything else. His love of wine has allowed him to work all over the world including: Napa, Sonoma, New Zealand and finally Mendoza. Since it is a boutique winery, they only make four wines and need to rent a bottling truck (looks like a large food truck) to bottle their wine a few times a year. (They were doing this on our visit!) The wine was fun to taste because it felt like being in your own backyard; the best part was tasting the Grand Reserve right out of the barrel!
- The final stop was a large commercial winery, Salentein, that produces 19 million litres a year, one of the 10 largest in Argentina. It looks nice from the outside, but after you walk through the doors you realize how grandous it really is.  The winery has the beautiful barrel rooms and cellars you would find in a large winery, but without the crowds and gift shops. This may be because people in Mendoza don't go wine tasting (according to our guide: Mendocines think wine tasting is boring and would rather just drink table wine at home) so the wineries only cater to tourists. You also must have reservations to visit the winery and when you get there you are greeted by a wine guide and provided a 30 minute tour of the winery. Our wine stop finished with a four course lunch and wine pairing – including a flavorful, juicy, medium-cooked Argentine steak. It all was fantastic!  Even though my bag is bursting at the seems, I had to buy a bottle of Pinot Noir Reserve (~$15 dollars) and a map of the Mendoza wine region I hope to eventually ship back and frame some day.
Overall we felt this was a first class experience. After much thought, and even more drinking, Arlen came to a very important conclusion. Malbec wine is not spicy! Apparently in Mendoza, since the climate is so ideal for growing grapes, "they only have great years and good years",  the wines are made to highlight the flavor of the grapes. Therefore, the true Malbec is fruity and bursting with flavor, a great wine for a hot summer day!
Some things we learned about Argentine culture: 1) do not plan on doing anything on Sunday, including: eating, drinking (water included), or getting your own money out of the bank. Sunday is a "family day". . . Not ideal for travelers who didn't plan ahead : ) 2) Argentina has 19 federal holidays, reportedly the most in the world.
Karen and Arlen