After 2 weeks in Buenos Aires we felt like we knew the city well and were ready to move onto a new adventure. But since our flight from BA to Portugal didn't leave for another week, we decided to head across the river to Uruguay, not only to punch our passports (Argentina has become notorious for putting as many stamps as possible in our passports each time we went in or out of the country), but to spend a few days in a beach town and hopefully try some surfing.
The destination in Uruguay was Punta del Diablo, a small beach town known to be less touristy and more laid back then the more well known Punta del Este. Once we arrived we knew why, dirt roads only and locals walking around with no shoes or shirts and plenty of dreadlocks.
This place was a great change of pace from the hustle and bustle of Buenos Aires. We finally got to enjoy some running in open space, our favorite spot was Playa Grande, a mostly vacant beach North of town with miles of sand. Running and watching the waves roll in while breathing in the fresh Atlantic ocean air is the right way to start the day. Dinner consisted of fresh cooked fish and shrimp from the local pescaderia (fish market) on the beach, a welcome change from 2 months of eating carne and pan.
The water was warm enough for swimming and playing in the waves. But after looking at the waves for long enough, and assessing how good they were for surfing, we rented surf-boards on the beach and went for it.  Arlen has been surfing a few times before but it was Karen's first time. She was surprised at how fun surfing is, even if you don't really ever catch a wave! Arlen taught her plenty of surf lingo like what it means to get "pitted in the green room". Unfortunately there was no getting pitted in the green room, just getting pounded by wave after wave and drinking enough saltwater for a lifetime, nonetheless a great time.
4 countries in 3 days?! After leaving Punta del Diablo, Uruguay we traveled by bus and boat back to Buenos Aires  and stayed the night (which by our count completed over 90 hours on buses in South America). The next day we went to the airport to catch our flight to Lisbon. We strategically chose a flight with a 9 hour layover in London – the perfect chance to see a new country, right?! We got into London at 6am (1am our time), and groggily worked our way off of the plane, through customs, out of the airport, and into downtown London all by 8am. If you ever have a layover in London, it is really easy to get into the city. They have an express train that takes you right into the center of town in 20 minutes. It was drizzling in London (not unexpected), but since we only had 5 hours to explore the city, we started walking. We had a chance to see a few sites and even fell in love with how clean and "green" the city seems.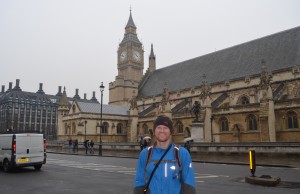 After a few more hours on the plane we finally made it to Lisbon. So Uruguay, Argentina, England, and Portugal – 3 days. Time to recharge the batteries from the travel and get ready for the second half of our trip in Europe!