On our previous trips abroad, neither of us have really loved spending time in bigger cities. This is probably partly due to not giving the city enough time, how much can you really get to know and enjoy a city in two days? But you can't travel through Argentina without visiting Buenos Aires, the country's biggest and most well known city. We wanted to give the city a fair chance and decided to rent an apartment and stay for 2 weeks.
Heading into our stay here is what we knew:  It is BIG (~ 13 million people including suburbs), it is the home of tango, there is a black market for American dollars (but we weren't sure if it was true, and if so what does it mean for us?), watch your wallet at all times, pickpocketing is a profession, and they love their futbol (but do they play in February and are tickets available for Gringo tourists?).
After two weeks in the city we had such a variety of experiences that we think the best way to share with you is to just jump in. Here is what we will remember the most about Buenos Aires, in no particular order . . .
It IS BIG. It is Really Really Big. Even with its massive size, what makes the city unique is the barrios, or neighborhoods (there is something like 48 official barrios). Walking the streets of the city we found European inspired buildings, French like cafes, street markets, and bustling business suits.
Getting Around. The road system makes no sense and the drivers are crazy. There are intersections with no stoplights, stopsigns, or sense of right away. Since over half the cars are taxis, its your safest bet to assume they always have the right away and would happily run you over.  If ever you ride in a taxi, best to just close your eyes and hope you get there.
The Pick-Pockets. BA has a great metro system that you can get most anywhere in the city, just hold on to your wallet and always wear your pack on the front. Everyone had a story to share about being pickpocketed, or witnessing it at some point on public transport. For example, a Scottish couple we met considered themselves lucky for only losing 200 Euro on the subway after it was his fault for putting his wallet in his backpocket. (Note: We came out of BA with all our stuff – as far as we know!)
The Blue Dollar. From what we were told, the President recognizes inflation of the peso at 10%, however, actual inflation is closer to 26%. As a result, the locals lost faith in the peso and starting making runs on the banks to get US dollars, as they viewed this as a more consistent and transferrable currency. The government put a stop to this and restricted access to US dollars through the banks, resulting in the creation of a black market. When we were there, the black market for US dollars (or blue dollar) was trading at close to 8 pesos to 1 dollar; whereas the bank exchanged at 5 pesos to 1 dollar. The black market wasn't just back alley trading, most shops and restaurants would happily offer us 7 pesos to the dollar (about a 30% discount on whatever you buy with U$). If you want a cheap vacation, be sure to come to BA with plenty of cash (just don't bring it on the subway)!
Futbol! Since everyone loves Futbol in Argentina, we made a point to get tickets with fellow travel and Cougar Alum, Caitlin Bonney, to the River Plate v. Tigre match. River Plate is the winningest team in Argentina, and the stadium held over 65,000 people, so we suspected that the game would be fun. The enthusiasm of every person in the crowd was unbelievable. From warm-ups throughout the entire game the crowd was on their feet, singing, chanting, and playing music. As a matter of fact, the fans are so enthusiastic that the visitors section in the stadium is divided by a 10 foot high barb wire fence to keep the peace. After the game, the home fans are locked inside the stadium to allow the visiting team and fans to leave the area on prearranged buses. We realized this when we were trying to beat the crowds and rush out of the stadium only to find all the exits guarded by police officers, keeping us inside for the next 30minutes. As for the game itself, it couldn't have been more exciting. The home team was down 0-1 with 10 minutes left in the game and then managed to score 3 goals before the final whistle, each one making the crowd louder and louder!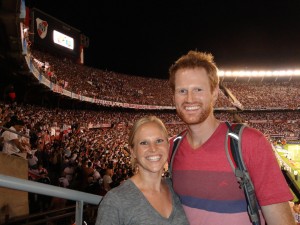 Tango! Sure we joined a walking tour to see the house of Carlos Gardel (the famous tango singer), and saw plenty of tango shoes and dresses for sale, but it didn't seem like the locals were  that interested in tango, or even knew the dance. At times it even felt like tango was used to draw in tourists. But since we ARE tourists, what the heck, we signed up for 3 tango lessons. It actually is a really fun dance to learn! We think we have down at the basics, but we still haven't figured out where we can practice back home. Ideas? The comedic highlight was when our tango instructor, Cristian, gently layed his head on Arlen's shoulder as he played the role of the woman teaching Arlen how to lead Tango.
Dining. The locals start dinner between 10:00pm – 12:00pm. The great thing is its easier to get a table and if your lucky you can catch an early bird special if you show up before 8:30pm (we saved 15% at a Steakhouse in San Martin de los Andes)! Also, Parillas (steakhouses) are like Starbucks in Seattle, sometimes you can see 3 or 4 on one street corner. To learn more about the local cuisine we signed up for the "Argentine Experience" which was a mix between a cooking class and a dinner; if you ever make it to BA this is a must!
Man's best friend? BA needs Bob Barker (from Price is Right) to remind them to spay and neuter their pets. Dogs are everywhere leaving landmines on the sidewalks and making dog walking a popular profession. We counted a dog walker with 12 large dogs at one time!
Summertime. One of the many perks of visiting BA during the summer is the fruit markets. There was one on almost ever corner and we even had one we could see from our balcony. Arlen couldn't have been happier and you have never seen him learn Spanish so quickly, he loves his uvas (grapes).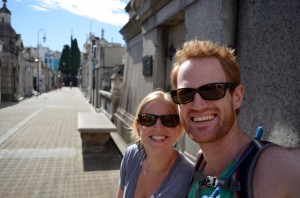 Next post, surfing in Uruguay and 4 countries in 3 days.