One of the differences between traveling for 4.5 months and our prior 2 week vacations is the flexibility. We can take our experiences, and what we learn along the way, and make changes to our trip.  In the beginning  our rough plan was to spend a month in Madrid with the goal of experiencing what it is like to live in a foreign country. But during our travels we learned two things that changed our course: 1) Barcelona and other cities in Spain are equally as great as Madrid and worth a visit and 2) when we aren't fluent in the language allowing us to converse with others, or if we don't have a greater goal (like Spanish school, community service projects, a job, etc.) 1- 2 weeks is usually enough for us in the same place. Therefore we decided to spend one week in Madrid and the rest of our time in Southern Spain, Barcelona and the Basque region.
Big cities can be intimidating and it is easily to get overwhelmed with the crowds, a long list of museums that you "have to see", and too many tourist attractions. To overcome this we think it is best to orient yourself in the city your first day with a city tour. In Madrid we signed up for a bike tour with Bravo Bikes. Arlen was hesitant to bike through a major city, with sidewalks full of pedestrians and crazy drivers, but to his surprise Madrid has plenty of bike lanes and with a 10am start on a rainy day, most of the city was still sleeping. We had fun chasing our guide through the city, covering most all of the famous buildings, parks, different neighborhoods, and learning interesting stories and history along the way. This helped us decide what places were worth a second visit and what only needed one pass through.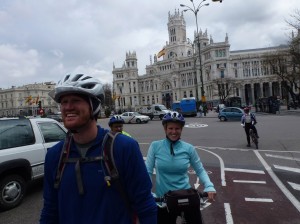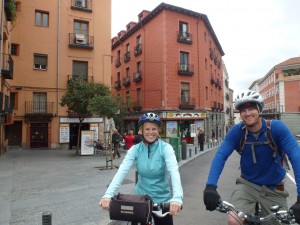 We were happy to discover that the city had a few great parks! Casa de Campo is huge, it's about 5 times the size of Central Park in NYC and has running trails in all directions. Retiro is right in the heart of everything, full of history, royal monuments, and is beautifully maintained. These parks were great places to run and catch up on exercise after many fun nights with friends in Portugal!
All that exercise has to be balanced with some great food, and Madrid is the spot. Tapas bars are everywhere, the jamon is fresh and abundant, and the Vermut is a nice sweet pre-meal drink. For those of you unaware, Tapas have been in the Spanish culture for hundreds of years. The story goes that an ancient king once complained about flies getting into his wine, only to have his servant "cover"  the glass with a slice of jamon (tapar in Spanish means to cover). A guest of the king then asked for his own "tapa" and a tradition was born. Specific to our experience, what we enjoyed most was the anticipation that comes with trying new restaurants and choosing the sexiest sounding tapas with unknown Spanish names.  This was a great change of pace from the long slow dinners in Argentina, or the dine and dash in the US, and allowed us try new foods and see the city at the same time.  A special thank you to our friend from Seattle, Jamie (who lived in Madrid for 2 years) for recommending us to some of her favorite restaurants in Madrid!