We are now about half way through our trip and just beginning our adventure in Europe, starting in Portugal. It doesn't take long to realize how much different everything is, it almost feels like we are beginning a new trip. We knew how to communicate, what and when to eat, and some of the nuances of South America – - and now . . . we don't. We are in Portugal and have to figure it all out again – what a great way to start Part II!
Our plan was to spend a little over 2 weeks in Portugal. Since we rented a car, and everything is fairly close, we have a lot of flexibility on where to go, but where should we start? We didn't do much research on Portugal prior to arriving, but we knew a few things: the beaches in the South are supposed to be fantastic (but can we get a tan in March?) and they are known for the Port wine in the North. Since we have visitors (Karen's sister Lisa and our friends Bryan & Rachel) our second week who want to see the beaches, we headed North to Porto and the Douro Valley.
Our first few days in Portugal helped set the expectations for our time here. Summer dresses and short skirts are replaced with long black jackets, blue jeans, and a warm scarf. Bars packed with people dining outside at 11:00pm are replaced with dinner at 8pm in a mostly empty restaurant. Say goodbye to summer, and hello to low season in Portugal. Even though it is a little colder the best part of low season is: better prices, booking lodging the day before or same day, and enjoying tourists spots without fighting the crowds for a picture.
First stop, Porto! Porto is the second largest city in the country and on the mouth of a river that feeds into the Atlantic ocean lending for a beautiful waterfront complete with  cobblestone streets, cafes, and whitewashed buildings with red roofs. Looking across the river is the Vila de Gaia, where the traditional port wineries house their  wine caves (picture wine cellars, but packed almost one ontop of another sloping up the hillside, in the middle of a city).
After enjoying a café con leite on the water, we walked across the river to check out the wine caves and try our first taste of Port! Not knowing much about it, we thought of Port like dessert wine, overly sweet and reserved for post dinner enjoyment. What we found out during our tasting was that locals treat it more like a cocktail and it's best drank alone or with cheese, nuts, or chocolate.  The origination is pretty interesting: many years ago the British were at war with France; since France was their main supplier of wine they needed an alternate source. They went to their ally, Portugal, and asked for wine. The only problem is that the wine sent from Portugal to Britain wasn't very good, so the British added about 1/5 Brandy to the wine, thus creating the first Port wine.
Second stop, the Douro Valley! The 2 hour drive from Porto to the Douro Valley was up and down curved roads and hairpin turns. We were amazed at how beautiful the scenery and couldn't help but pull over for a few pictures and even to pick some fresh oranges off the trees.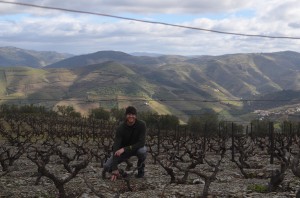 Thanks to Lonely Planet's recommendation we were able to spend 2 days in Casa Cimiera; a 200year old family run B&B in a hilltop village and one of the best stops on the trip. Our favorites at the house were the homebrewed Porto wine, the full breakfast, and the family style dinners. Although the hosts spoke only Portugese  they were the life of the party and kept the group of 8 engaged; even with 4 different languages spoken at the dinner table. We left the Douro happy and well-fed and were ready to head South and get some much needed exercise.