Packing, unpacking, repacking, packing . . . Doing this every few days does not help you feel settled. After our first 5 weeks of moving around every few days, we thought we would try a new method of travel, staying put. Since the Lake District is somewhere we wanted to spend a good portion of time, we searched for a place on Airbnb (if you haven't heard of it, look it up, excellent way to travel!). We found a great place about 20K outside of the city of Bariloche, meaning it was closer to the activities and sights that Bariloche has to offer (biking, kayaking, hiking, boating, etc).
Our home away from home: The place we picked was a private room in a house on a Lagoon. The place was very well reviewed on Airbnb, so our expectations were high. When we arrived even our highest expectations were blown away! The place was gorgeous and perfectly located. We're still trying to figure out how we can get a place like this in Seattle;  a custom home on the water is totally reasonable, right?
Around the house: As you can see from the pictures above, hanging around the house is not a bad way to spend a day. We enjoyed our home away from home by: hosting our own Superbowl party (with Spanish commentary), cooking every day and even making some local cuisine (we made our own chicken Empanadas!), swimming at least once a day (the exception being one day we just floated with life jackets on after a long hike – No judgment please kvh and sam

), and kayaking around the lagoon.
Daily Adventures:  Aside from just a lake front view, our place was accessible to many other activities, as it was right next to Nahuel Huapi National Park. We had time to do most of what we wanted: we biked the Circuito Chico loop, went to the top of Cerro Campanero lookout, visited Puerto Blest by boat, hiked to the top of Cerro Catedral mountain, and explored the Sunday market at Colonial Suiza.
Circuito Chico is a 26K loop that weaves its way through most of the lakes in the region and through Nahuel Huapi National Park. You pass by Llau Llau the most famous hotel in Argentina; Arlen would not recommend this place because on our way up to see the hotel the entire pedal to his bike fell off (gotta love rental bikes!)! Needless to say, the staff at Llau Llau were not eager to help him out. Luckily, we found someone to call our bike rental shop and they brought him a new bike.  Once back on the road, we entered the National Park and found our favorite part of the loop, Villa Traful beach. The beach was tucked away down a mile long dusty dirt road, but when we got there we were stunned by the crystal clear turquoise water. It didn't take us long to put on our suits and go for a swim! To finish it up we enjoyed 3 for 2 frozen margaritas and the view at Punto Panoramico, the highest point on the loop.
Cerro Catedral is the biggest ski center in South America. Karen wondered why we decided to hike a ski mountain (when it seemed like something we should be doing on a snowboard), but once we started making the climb, she realized that the trail wasn't right under the chairlift, but instead went through the forest on the backside and to a small mountain lake surrounded by jagged peaks. The lake was much needed as it was close to 95 degrees!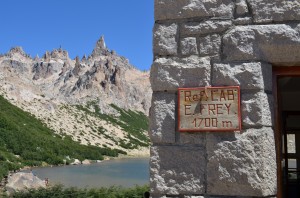 We don't want to bore you with too much more writing, so here are some pictures of the other activities we enjoyed.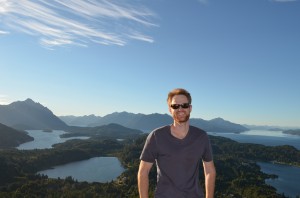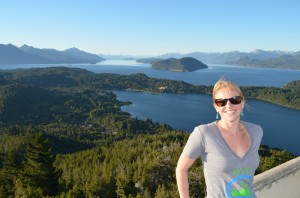 After two weeks in the Lake District we are heading east on a 20 hour bus ride to . . . Buenos Aires!