We really loved Spain. We enjoyed great food, great weather, beautiful scenery, and the friendly manner of the Spanish. We have to admit we were enjoying it so much that we got behind on our blog. Since we already posted about Madrid, this post is a quick summary of the other regions we went to in Spain and what we liked most about each stop.  We are excited to share more stories with you when we get back!
Andalusia Region: Granada & Sevilla (The South)
Granada is a university town that is tucked into the back of a mountain range (the Sierra Nevadas), complete with it's own castle, the Alahambra. Although it is much smaller than Madrid, Granada still has some really great food, and its a lot cheaper! When you order a drink at the bar it is accompanied with it's very own tapa. But the tapa isn't just as simple as a small portion of olives or nuts, it is much more. We got jamon and queso sandwiches, a plate of slow roasted meat and potatoes, and croquettes, just to name a few. The anticipation builds with each drink you order as you wonder what tapa your going to get. And at only 2 euro per cerveca you can have some fun with it! On this trip we usually try to balance eating out with cooking at home, but in Granada, it was all tapa bar hopping!
We stopped in Sevilla for a day or two on our way to Barcelona, and thanks to our central location we were able to appreciate how beautiful of a city it really is with the squares, cathedrals, and maze like walking streets.  We thought that it was the most "Spanish" of all the cities we went to in Spain, it was charming, laid back, and just simply beautiful.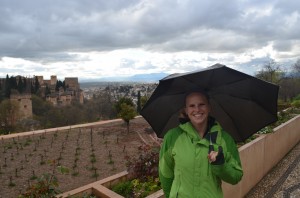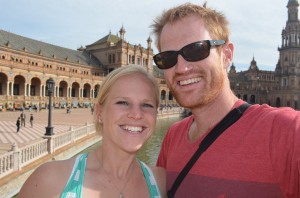 Catalonia: Barcelona!
We loved Barcelona! Through Airbnb we booked a private room for 11 days in the Barcenoleta neighborhood and were 3 blocks from the beach. We were sharing the apartment with our hosts, a married couple, and another guest from Germany. After a few days we started to settle into the place and a realize the sort of family dynamic we had going on. Our host, Isabel, took great care of us including having breakfast waiting for us downstairs each morning, keeping the house clean, and even doing our laundry. The German guest, Tilo, was on business and working from Barcelona on his new tech start up. Arlen enjoyed morning business conversations with him and his high energy and way of telling stories  always kept us interested. Isabel's husband, a native from Senegal, was a fantastic cook and even made a special Senegalese dinner for us on our last night. The 5 of us ate together on the floor out of one large family style dish, learning about the Senegalese culture, and sharing endless laughs all night.
Our home made our stay in Barcelona that much better. It is a fun, energetic city, and the weather happened to be perfect (mid-70′s and sunny) when we were there. Thanks to the miles of beaches complete with outdoor gyms (mostly just pull-up bars) we got back in shape. The nice weather allowed for some time for sunbathing and reading on the beach. We also were conveniently located next to the best bakery ever! People and restaurants from all over Barcelona come to this bakery to pick up loaves of their fresh bread and, lucky for us, it was basically in our backyard. We went about twice a day for 10 days enjoying fresh pastries, nut bread, pizzas, and sandwiches. They started to get to know us and on our last day there as were stocking up for our train ride to San Sebastian they sent us off with free pastries, puff balls, and pizza bread (just so we could try it!). Lisa, we wish you could have tried the chocolate croissants here!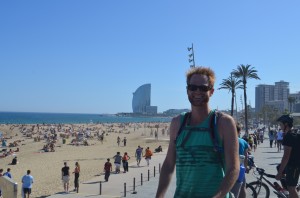 Basque Region: San Sebastian (The North)
On paper San Sebastian is amazing, one of the best city beaches, multiple Michelin Star restaurants, and beautiful greenery and hills. Yes it had all these things, and yes they were great. But for us it had some tough competition coming from 10 days of perfect weather and beaches in Barcelona, and we didn't have as much of a connection to it. Probably because as we have learned, and those living in Seattle well know, that the weather and time of year can easily change your perspective on a city!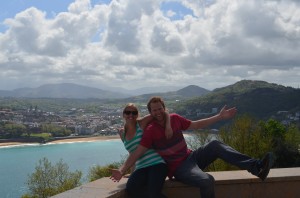 Rioja!
About a month ago we were looking into doing a multi-day bike tour, we scoured and searched the internet but came up empty handed. All we could find were week long guided tours that cost upwards of $1000 or bikes that would be shipped to Spain from the UK and seemed far too complicated. Lucky for us, while in San Sebastian we stumbled on a great option, Nava Bikes. Nava Bikes is only in their second season of business and set us up with bikes, saddlebags, a  GPS programmed with a custom route, daily pre-arranged winery tours (2 of which were with his friends), and even a ride back at the end! The GPS route they planned kept us almost completely off the main roads so we could cruise for 3 days car-free while winding over the river, through the woods, and to Gramma's house. Just kidding! No woods or Grammas house . . just back and forth along the river, through fields of vineyards, and past small Spanish villages.
The route:
Day 1: Pick up bikes in Logrono and ride along the Camino de Santiago (http://en.wikipedia.org/wiki/Way_of_St._James)  to one of the smallest wineries in La Rioja region (Arar), share a bottle of 2003 with the owner and bike back to Logrono. (26K)
Day 2: Bike from Logrono to Laguardia, a small town completely surrounded by a castle wall. Afternoon tour at La Campillo winery, dinner in town, and chocolate and strawberries to watch the sunset over the fields. (34K)
Day 3: Bike from Laguardia to Haro. Lunch and a celebratory beer in town and a tour at Lopez de Heredia winery, one of the oldest and most traditional wineries we have seen! Our Nava bikes guide picks us up in Haro and drives us back to Logrono.
We were lucky enough to get some really great weather, sunny with a cool breeze. This was definitely one of our favorites of the trip!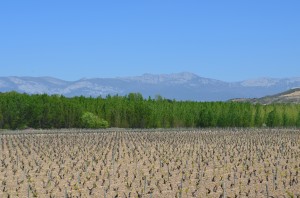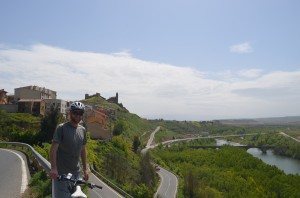 After about a month in Spain we head North to Paris, France!